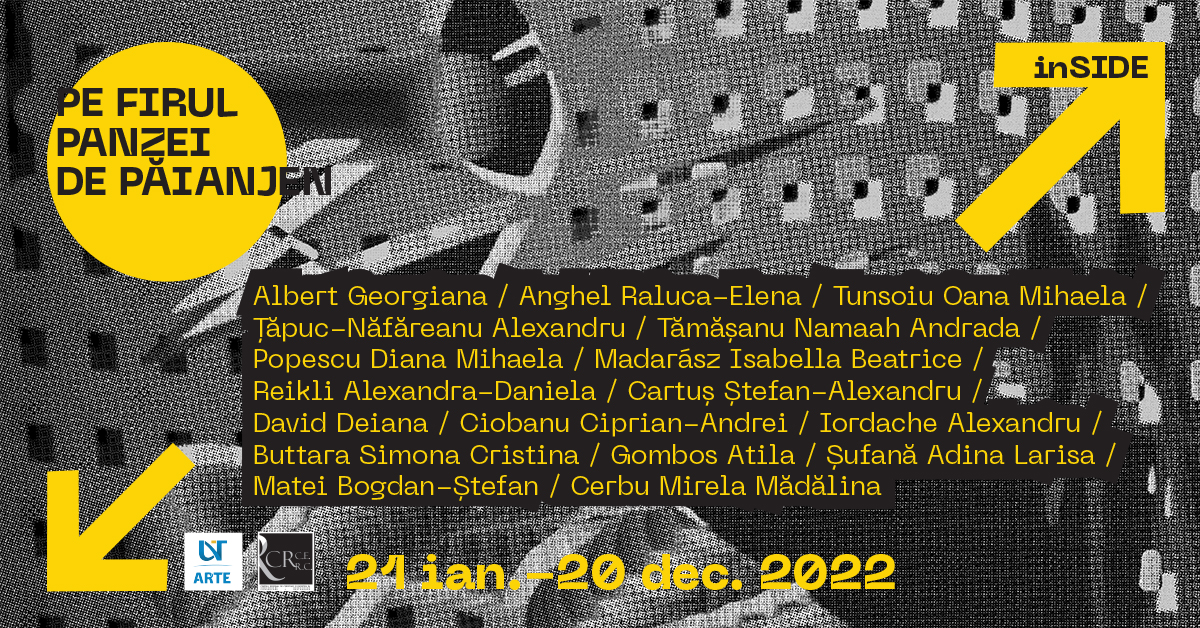 inSIDE is an educational project that promotes the dialogue between students, but  also supports interdisciplinary, collaboration and transdisciplinary.
This year's edition is hosted by the online platform of the ArteFact Gallery, under the title "On the spider's web wire" and presents the works of the students from the Faculty of Arts and Design, in the West University of Timișoara.
The concept of the first edition belongs to Isabella Madarasz, who is a  student at the Master degree program Heritage, Restoration and Curating in the Visual Arts:
«The exhibition "On the spider's web wire " aims to create a digital environment that shows the individual's emotional world. If before the start of the pandemic, the artist's concerns were mainly focused on sustainability, the lockdown particularly, made him reflect more on to the impact produced by this event on the human psyche. Thus, during the lock-down and restrictions, introspection has gained more and more ground. The pandemic, through its extreme situations, revealed the latent emotional problems of the society.
"On the spider's web wire" is a suggestive title, inspired by the novel of Cella Serghi, that follows the process through which the feelings leave an emotional impact on the individual, like a spider's web,  is fragile, sticky, sensitive but complicated by its structure.
The interdisciplinary nature of the exhibition is motivated by the concept of the spider web. This is a complex, multidimensional, transcendent, metaphysical structure. The philosophers Gilles Delleuze and Felix Guattari, in the second volume of the book "Capitalism and Schizophrenia"  developed the concept of rhizoma.
The expression is borrowed from biology and it refers to the free passage of thought between artistic styles and domains, time and space, in another worlds ( in other words?) interdisciplinarity.
The emotional world is closely linked to the cognitive one, as psychology already proved. A thought triggers an emotion and vice versa. The starting point of a rhizoma are the binary decisions, specific to man, but it transcends on a metaphysical level, creating thousands of interconnected networks.»
Visual identity: Bogdan Matei, Adina Șufana
Project initiator: lector univ. dr. Silvia Trion
Organizer: CR-CERC Regional Center for Research and Expertise
in Conservation and Restoration of the Faculty of Arts and Design, West University of Timisoara
How to participate: send your project send your project to the following email silvia.trion@e-uvt.ro