La UVT, cultura e capitală!
At WUT, culture is capital!
ArteFact este un spațiu virtual care își propune să faciliteze accesul la cultură în general și la domeniul artelor vizuale în special.
Web-situl prezintă activitatea de creație și cercetare a Facultății de Arte și Design și a proiectelor realizate în parteneriat cu diferite entități.
ArteFact is a virtual space that aims to foster the access to culture in general and to the field of visual arts in particular.
The web site presents the visual creation and research activity of the Faculty of Arts and Design and other projects realized in partnership with different entities.
Ultimele proiecte / Latest projects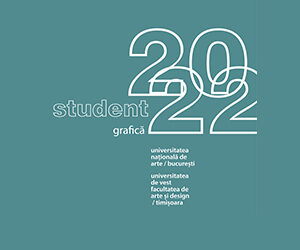 Expoziția GRAFICĂ/Student 2022 reunește lucrări ale studenților programelor de studii universitare de licență Arte plastice – Grafică și masterat – Master Grafică și Master Grafică publicitară și de Carte.
Facultatea de Arte și Design – UVT
Str. Oituz, nr. 4,
Timișoara, România